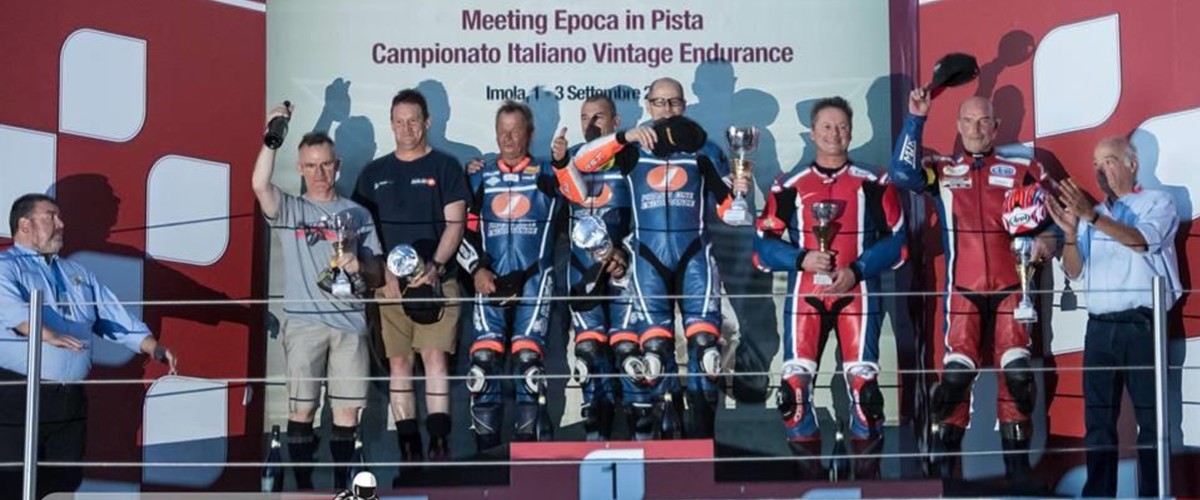 Team Alf's Classic Endurance 2017 Racing Series
3RD ROUND - IMOLA, ITALY RACE SUMMARY 1ST - 3RD SEPTEMBER 2017
Imola went well for Team Alf's, from lots of rain and really warm to sunshine, read below for a summary of the race action and photo's captured from the weekend. The Kawasaki P&M 1100 are looking smart, the riders are 'On It' and ready to go we proved that by being in the lead for most of the whole race.
The start line line up was as below:
1 / n°56 Team Force 2'06.17
2 / n°110 Guaracing Factory Team 2'06.860
3 / n°59 Team ALFS 2'07.406
4 / n°44 Team TAURUS 2'07.871
5 / n°1 Neate Racing 2'07.933
The placements after 2 hours
Neate Racing is still leading after 2 hours. Team Force has unfortunately given up.
1. Neate Racing
2. Alf's Classic Endurance
3. Sweatshop Phase One
4. Sweatshop Phase One
5. Team Taurus

The placement after 3 hours
The sun slowly goes down on Imola...
Standings after 3 hours
1. Sweatshop Phase One
2. Alf's Classic Endurance
3. Sweatshop Phase One
4. Neate Racing
5. Road Runner
"It was all going so very well - leading the majority of the race - And then it went so very wrong"
*** Facebook Message ***
"Engine failed 1 hour from end, we achieved fastest lap."
Alf has clarified that the Exhaust Valve broke and catastrophic damage to the piston head.
The Team Spirit stayed hard and firm, disappointed but very proud of the achievements over the course of this race, both with bike, riders performance and Team Alf and the crew who without them nothingwould be happening.
THE INTRODUCTION ABOVE IS MIKE 'SPIKE' EDWARDS (LEFT) ON THE PODIUM RECEIVING THE FASTEST LAP TROPHY! - Yeah! Well Done Mike & Team Alf's

Return to the previous page